Custom Application Development
Gain Technology Excellence & Higher Business Value with Custom-built Applications
AUGMENTING BUSINESSES WITH CUSTOMIZED APPLICATIONS
Dynamic and competitive business environment makes it essential to have business applications that are more responsive and simplify business processes and workflows.
Often businesses look for solutions that can address their unique business needs, and proprietary software products are not sufficient to resolve it.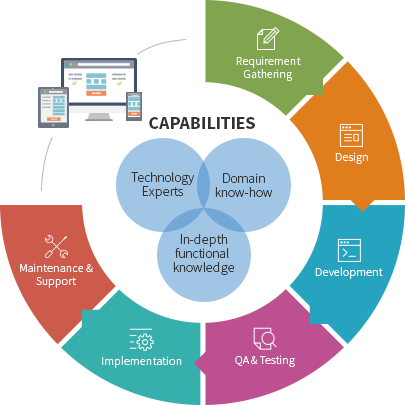 Empowering Businesses to Accelerate Transformation
We at Diaspark, understand these unique needs and thus specialize in custom application development to address specific needs and bring in new-age features that are self-serving and increases productivity. We retain the value of your legacy applications and augment them with capabilities of new-age platforms and custom solutions.
Our process and quality assurance framework ensure accelerated solution delivery. By offering flexible engagement models, we strive to meet your IT objectives efficiently.
Expand business processes with customized applications
Business processes automation resulting in faster time-to-market
Better collaboration of IT implementation in  alignment with business strategies
Decreased costs & increased IT assets performance and productivity
Write to us, We'd love to hear about your needs.